DHD.audio develops and manufactures digital audio studio technology for professional applications in radio and TV broadcasting studios. DHD's support team is the backbone of thousands of twenty-four-seven operating installations.  Our engineers cooperate closely with our international distributors to assist on site or from the distance with system configuration or problem solutions
DHD mixing consoles are the front-end control devices of the Series 52 products. DHD DSP cores are doing silently their processing work somewhere hidden in the machine room or in the studio, the mixing consoles provide full control over your desired workflow in every situation. Users can decide the layout and function of every single channel strip u to their requirement with the Modular Mixer MX and the Versatile Mixer RX2 or work with the pre-configured layouts of the Compact Mixer SX2 and the Desktop Mixer DX. Use the Touch Mixer TX as a flexible solution inside and outside of your studio.
RX2 - The Versatile Mixing Console
RX2 - The Versatile Mixing Console
MADE FOR ALL BROADCAST APPLICATIONS
Developed for the highest demands in radio and TV broadcast environments, the RX2 is perfect for modern workflows in on-air studios, main control rooms and OB vans.
A large 10.1″ touch display for each console section provides you with all options to configure a customized mixer layout with exactly those buttons, meters and settings you need. This makes daily on-air production quick and easy. This versatile console series ranges from compact sizes of 6 or 12 faders for smaller production units to big control-room consoles with up to 60 faders. All faders are professional-grade 100mm motorized faders with dust-protection.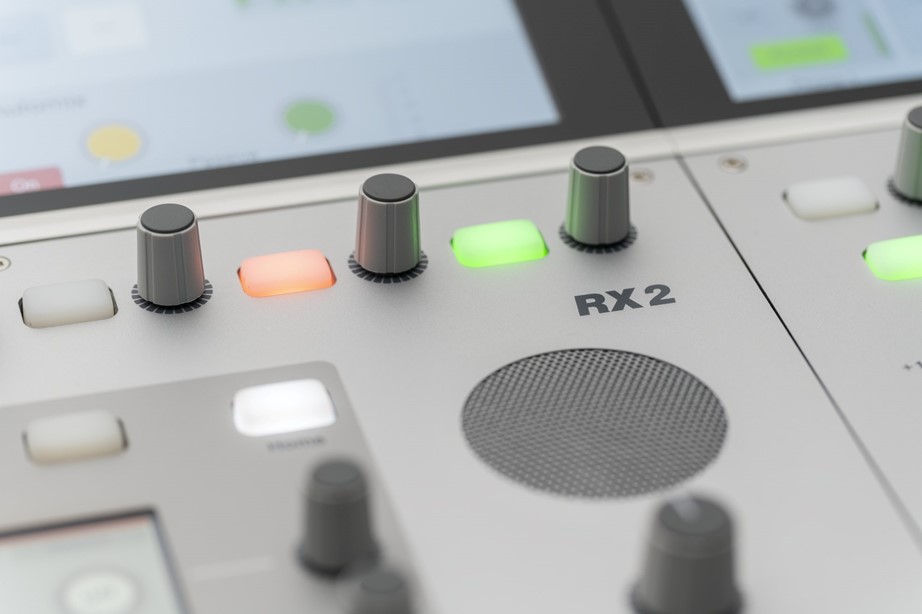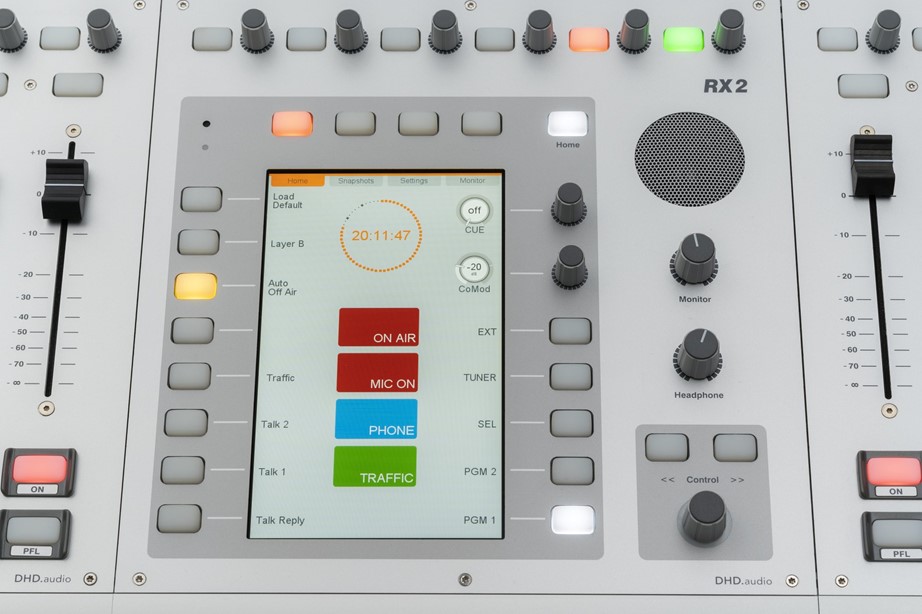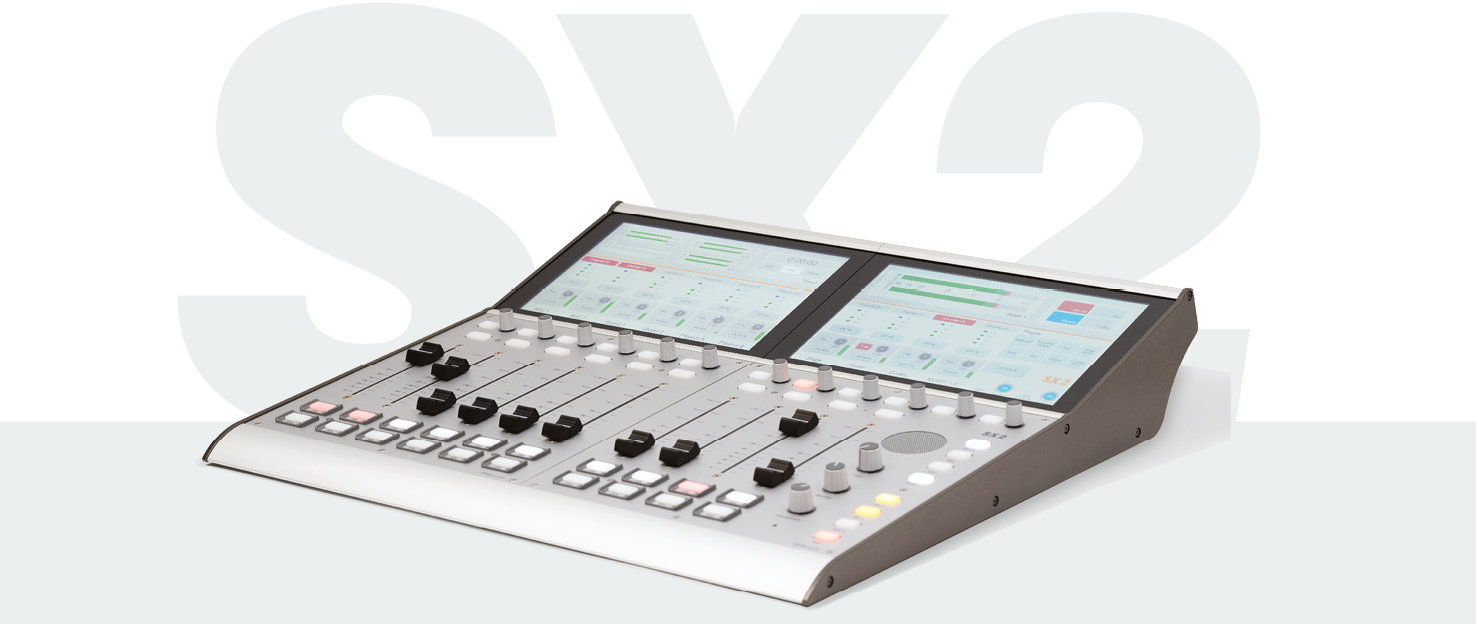 SMART MODULES FOR ALL APPLICATIONS
The SX2 is a modular mixing console for radio and other broadcast applications. The price-optimised mixer is ideal for on-air studios, audio workstations and smaller OB vans.Console sizes are adaptive and range from 4 to 16 faders. The central module (52-5614) has four faders and a central section for monitoring, talkback and central controls. The fader modules (52-5620) feature 6 faders. All faders are professional-grade 100mm motorized faders with dust-protection and allow a second layer for up to 16 channels.
SX2 modules feature a 10.1″ multi-touch display for faders and central control. All modules are separate table-top devices.The SX2 modules are designed for easy maintenance and low power consumption.
MX- Modular Mixing Console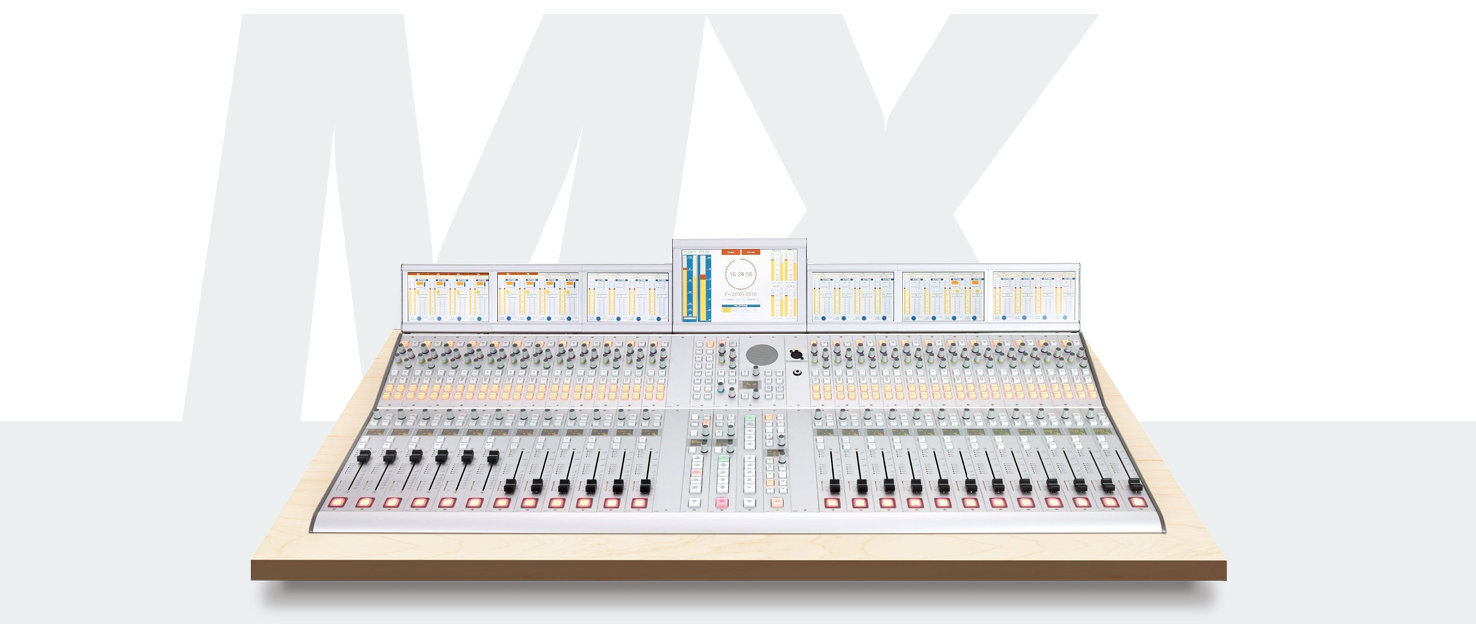 The MX takes audio mixing to a totally new level in flexibility. There are many different control modules available – just pick what you need for your application. They fit all together seamlessly and give you the control surface you want. No matter if you need a mixer for a small editing suite, a live DJ desk, an OB van or even a large-scale main control room console – it is easy to tailor the mixer to meet all your requirements.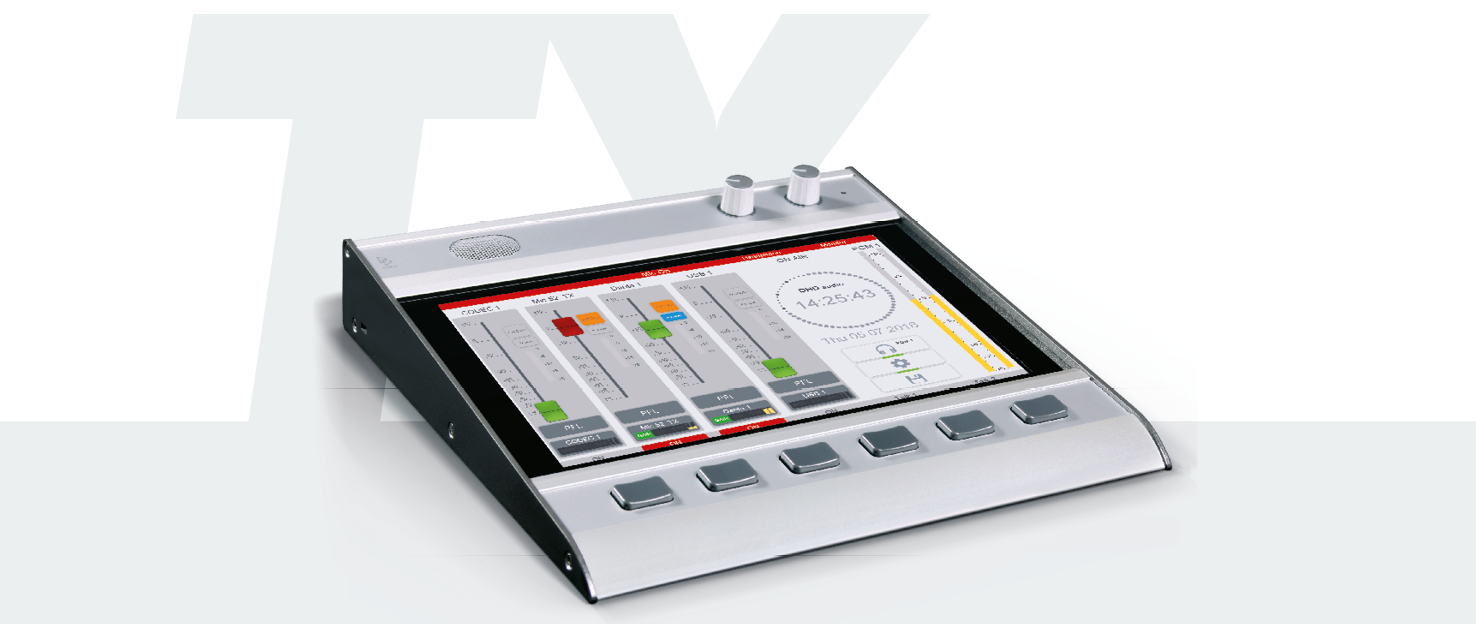 The TX is a multitouch mixing console with an intuitive control interface for daily operation at news desks, in editing suites and in SNGs.
Its flat table-top design, with a 10.1″ multitouch display, two assignable potentiometers and six hardware buttons, allows professional audio mixing on a small footprint.
The TX can be used with any of our DSP Cores as stand-alone mixing console or as extension for a larger DHD system.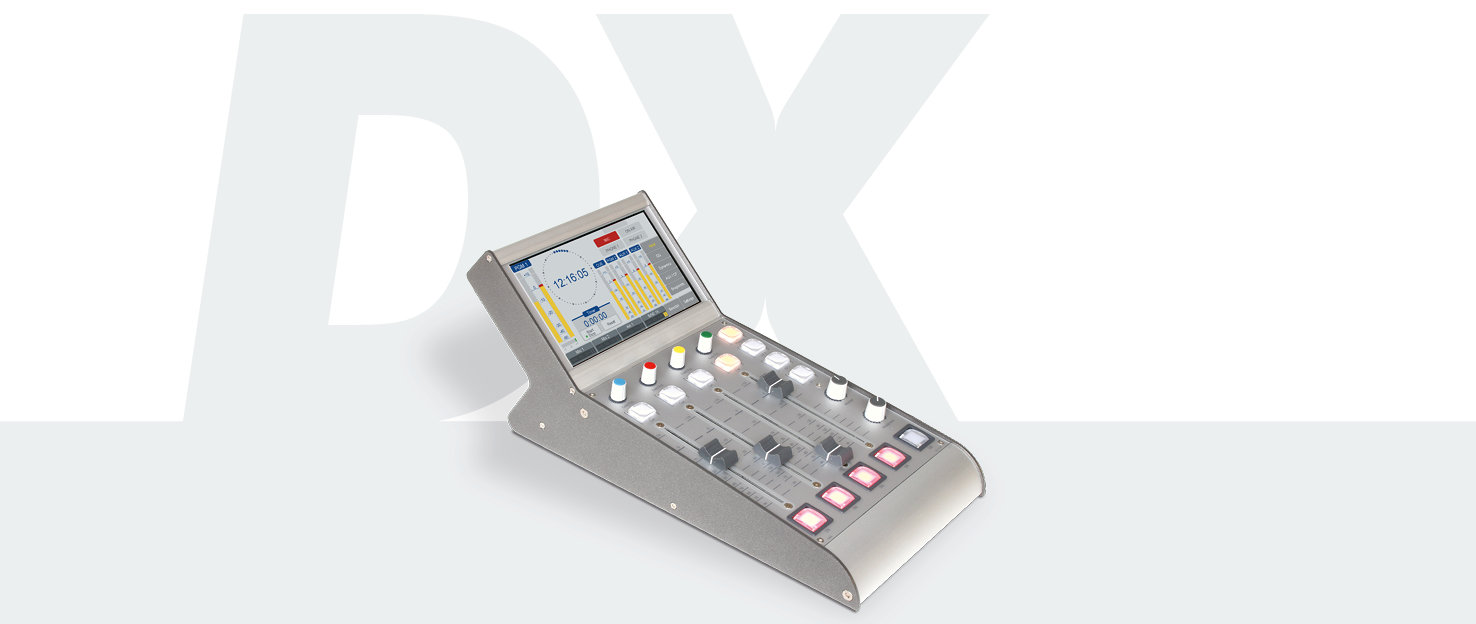 The compact DX Desktop Mixer can be used for On-Air, in the OB van, for news, edit and ingest Stations. Due to the professional DHD design with its 4 faders, a TFT touch display, and a 1U DSP and I/O unit, it can be used in every radio and TV environment. To install the DX, just put it on the table. No need to cut holes in the furniture – you can start using the mixer immediately.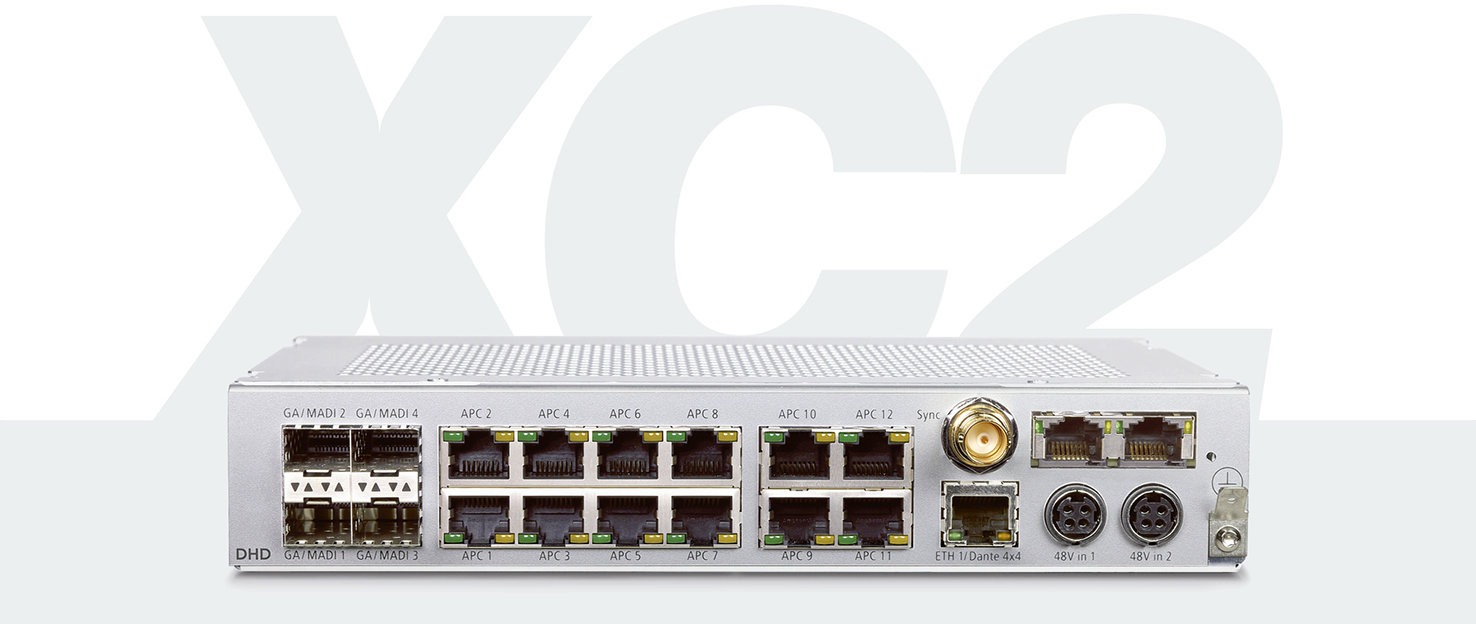 The XC2 Core can manage any task in your broadcast studio. This includes small DJ-operated studios with 12 faders or even larger control desks in a complex studio environment with up to 44 faders.Different device types with different feature sets allow a system that is perfectly fitted to your application and budget.
XD2—THE HIGH CAPACITY CORES
MIXING AND ROUTING MADE MODULAR
The XD2 Core is the ideal audio routing matrix for modern broadcast environments. It features full configurability and modularity to tailor a system that fully supports your workflow. Numerous connectivity options for Dante™, AES67/RAVENNA, MADI, AES3/EBU, Gigabit Audio, APC or analogue signals are available.
THE COMPACT CORE FOR SIMPLE SETUPS
The XS2 I/O DSP core is the choice for smaller On-Air studios, university radio stations or journalist booths. It is designed to work with SX2, TX or DX control modules with up to 24 faders. Besides the control modules you can connect XS
 Multi-I/O Boxes and other XC I/O modules to build a modular DSP and I/O system requiring only 1 U or 2 U rack space.
The compact 1U DSP core is an independent DSP system which does not require a PC for operation. There are neither fans, hard discs nor batteries inside the XS2 I/O Core – this allows silent and low-maintenance operation directly in the studio. This
 core will be configured with a simplified version of the Toolbox software called 'SXConfig'.