The NEXUS components are a family of plug-in cards which almost all requirements for audio transmission and conversion as well as extremely complex control tasks can be flexibly implemented. Each system can be tailored exactly to the individual requirements of your installation. With NEXUS, Stage Tec uses the industry standard of 19″ subracks, which not only allows you to configure the system in a highly adaptable way but also guarantees future expandability.
What Makes NEXUS Special?
Each NEXUS system consists of one or more Base Devices. The industry standard is a 19″ subrack, in which up to 21 plug-in cards can be inserted on one level. The cards can be freely combined to represent the functions you need. Subracks are available with 1 – 5 levels (3 – 15 RU in the control cabinet), a 1-RU version with 6 slots is also available. Two power supplies can be used at each level. These can be connected to one or two phases on the connection side to provide redundancy and maintain function even if one phase of the power supply fails.
Guaranteed Timing and Lowest Latency thanks to TDM Bus
Each Base Device connects all the cards in it via a TDM bus (time-domain multiplexing). This bus provides 256-time slots for the transmission of up to 256 signals. The TDM concept guarantees a fixed, reliable timing with the lowest latency. NEXUS ensures that only the signals that are actually in use are switched to the bus at any time, thus conserving resources.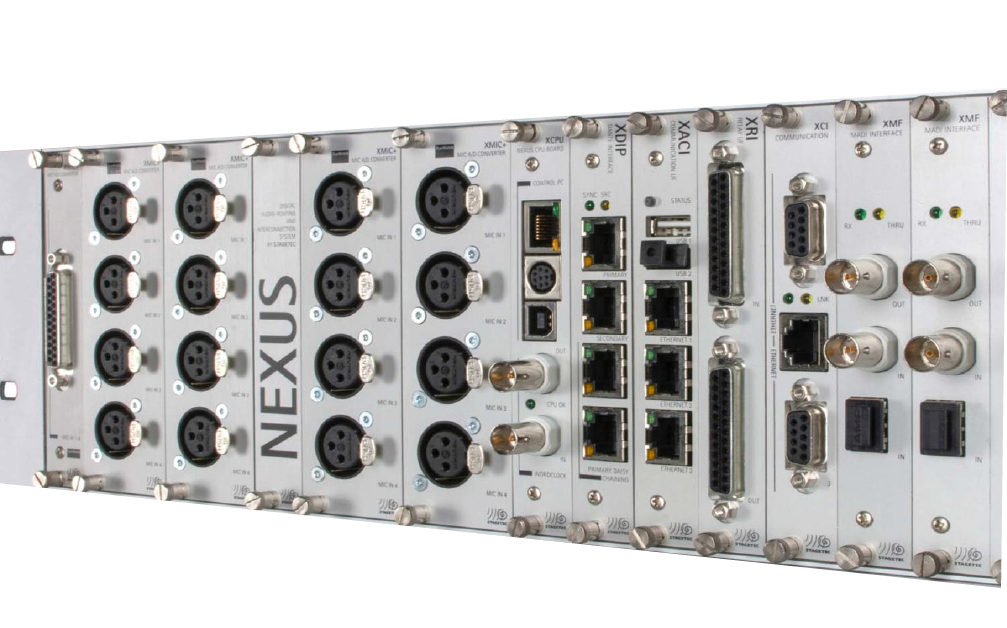 Maximum Operational Reliability through Distributed Intelligence
The central slot in each Base Device is occupied by the XCPU card. This card controls the signal distribution and processing (TDM bus) within the Base Device and has a complex, local logic that can be used to implement even failed control functions within a Base Device or across the entire network. Since the entire configuration of your system is burned into the XCPU cards of all Base Devices (BD's) during setup, each XCPU knows the entire topology. This enables an XCPU not only to automatically control the routing between all connected Base Devices but also to permanently monitor the entire network.
Ethernet and USB ports are available for connecting control PCs. If individual components fail, the function of the rest of the network is completely retained. This makes it possible, for example, to use individual Base Devices on a mobile basis or only when required. Due to the burned configuration, the boot process is very fast.