NEXUS compact – TrueMatch
STAGETEC's NEXUS compact – TrueMatch (NXC-T) system features the same state-of-the-art audio quality and reliability as the standard NEXUS system. The small enclosure converts baseband and analogue signals to IP audio standards such as AES67, Dante, RAVENNA or ST 2110-30/31. The NXC-T is based on open standards and protocols. It also includes fixed IO settings to save money and is controlled via a web browser-based user interface.
NEXUS compact – TrueMatch – Concept:
Proprietary TrueMatch technology provides unrivalled audio quality. It achieves an otherwise inconceivable 158 dB dynamic range while having minimum transducer faults, low distortion, and exceptional aliasing rejection. The innovative four-stage functioning of TrueMatch converters eliminates the requirement for analogue preamplification. As a result, analogue clipping and component noise are reduced.
NEXUS compact – TrueMatch supports established, publicly available standards/protocols such as:
EmBER+
NMOS IS-04/05
SMPTE:2110-30
SMPTE:2110-31
SMPTE:2022-7
The NEXUS system maintains a high level of operational reliability and quality because to the decoupling of NEXUS I/O board technologies and pre-existing circuit designs. The compact size and efficient use of an IP infrastructure enable maximum flexibility.
With a Dante interface and connected to the Audinate Dante ecosystem, NEXUS compact – TrueMatch is available as an AES67 device for integration into an SMPTE:2110 and NMOS environment.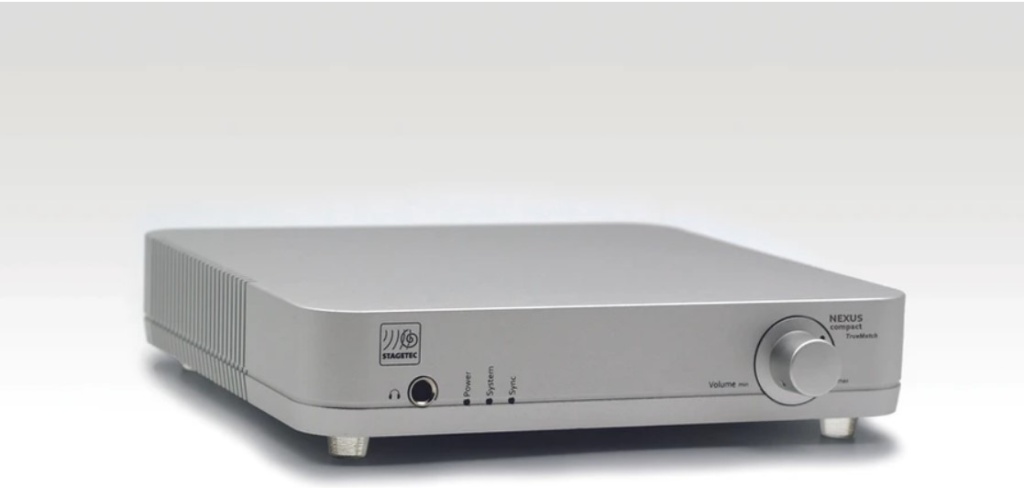 NEXUS compact – TrueMatch – Features:
8 x TrueMatch Mic in 4 splits each

4 x AES3 stereo in
4 x AES3 stereo out
8 x Analog out
Stereo headphone
64 x Dante / AES67 I/Os, (option based on module confi- guration)
6 x GPI / 5 x GPO, GPIs in pairs also usable as encoders
64 x AES67 / Dante I/Os (option)
Basic DSP product functionality is planned the future (MixMatrix, In/Out-Channel: Exp/EQ/Comp/Lim/Delay)
NEXUS compact – TrueMatch – Application Areas:
Reference converter for recording studios and high-end recording, both for input signals (microphones/line) and monitoring.
Connecting camera-mounted microphones with simultaneous monitor/comm/tally operation.
Small stage boxes for practise stages, foyer sound reinforcement, and backstage
Deployment of small workstations with local low latency monitor mixing*
On-site mixing for small remote projects with audio input from local sources*