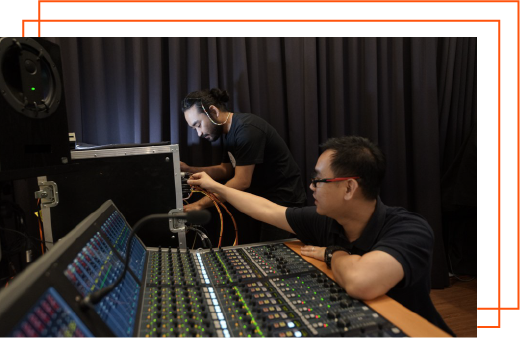 https://staging.stagetecasia.com/wp-content/uploads/2019/04/consultation-redframe2.pngOur broadcast consulting service primarily focuses on building infrastructure, facilities, and studio build-up. We have a team of experts in different subject matters such as; AOIP technology,  surround sound, and audio loudness. Thus, we pledge to guide clients to get through the ever-changing technology
Our team of experts is experienced in designing and selecting the right audio technology for different building infrastructures, facilities, and studio build-up. We will guide you through the ever-changing technology landscape to choose the best-suited technology for your production, as well as advise you on aspects like surround sound and audio loudness. Our goal is to match your broadcasting requirements to the different levels of technical specifications, whether they are of entry-level, middle-level, or professional-level.
Our certified technical have the expertise in broadcast engineering, so we are here to assist your requisition.