Amsterdam Netherlands, 2022- It's a wrap! The IBC (International Broadcasting Convention) 2022 concludes in four days after three-year hiatus. This was undoubtedly one of the most significant events and it was exciting to see a platform to discuss the latest technology with clients, business partners, and even friends.
According to the official website of IBC 2022, over 37,000 delegates from 170 nations visited the event to interact with more than 1000 exhibitors. To remain at the forefront of industry innovation, IBC 2022 focused on bringing technology and content together to unleash commercial potential, resulting in content availability through programmes such as the Changemaker Programme, Innovation Stage, Showcase Theatre, and Content Everywhere Stage.
The STAGETEC GmbH team, together with STAGENET partners, attended IBC 2022 as exhibitors, and the display was set up the day before the main event, which took place from September 9 to September 12. STAGETEC GmbH showcases reliable IP signal management solutions for audio, video, and control interfaces, that enable various streams to be generated, and distributed easily, quickly, and reliably. The new product categories include the new AVATUS control surfaces type 'AVATUS E' and 'AVATUS C', and STAGENET solutions for IP signal management.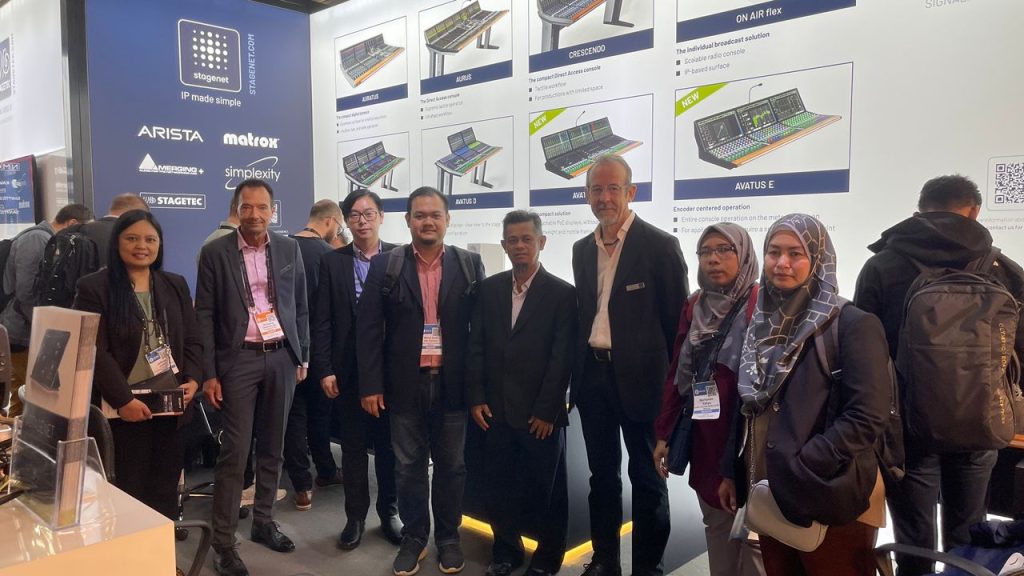 The STAGETEC exhibition was led by Jean-Paul Moerman, Director of Business Development of STAGETEC GmbH, and Advon Tan, Managing Director of STAGETEC Asia. Among other things, the Malaysian delegates received an overview of STAGETEC's innovative technology and workflow solutions as well as those of other STAGENET partners.
The days at IBC 2022 were quite spectacular with new releases from well-known names and some from start-ups. Everything was discussed during the event, including the potential and benefits that technology offers, as well as the current issues facing the industry.